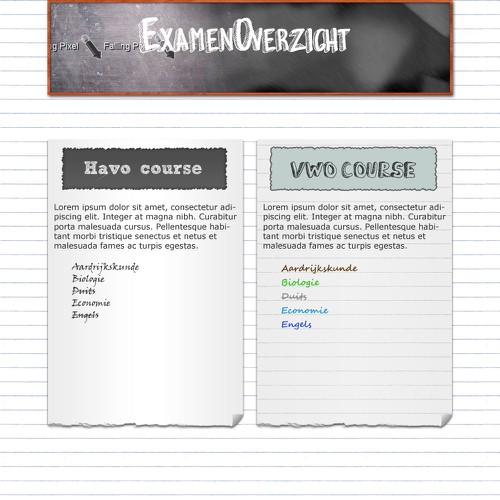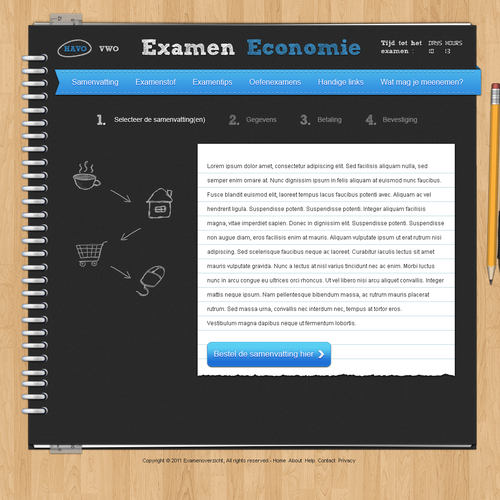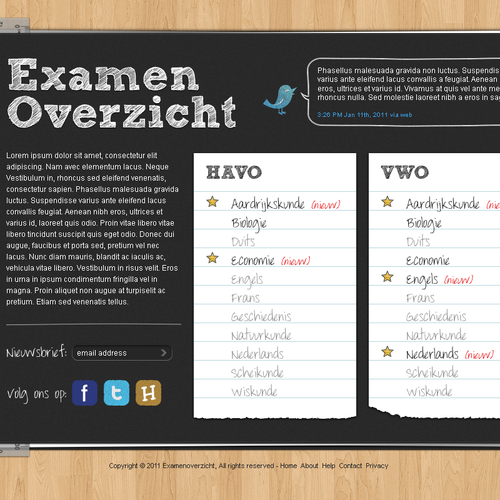 One of the designers who made it happen
Winner - Vaux
- raulsann
How Maertelaere started their web page design journey
Company name
Page one: ExamenOverzicht (ExamOverview). Pages two and three: Examen <course>, like Examen Economie (Exam Economics)
Overview
This is a proposal for creating a design for a website build around the topic of high school exams in the Netherlands, http://www.examenoverzicht.nl. The aim of examenoverzicht.nl is to create a portal where students in their final years of high school can find information and tools, tailored to their school level, to prepare optimally for the upcoming exams. The deliverable shall contain a three page design for:
1. An overview page containing an explanation of the concept and two boxes representing the school levels, filled with links to the course specific pages
2. A landing page for a specific course
3. A sales page (direct response page) to sell a summary of the exam contents of a specific course. (part of page 2)
Tell us a bit about who you are and the people you reach
The target group is high school students with the age of 15-20, who are doing final exams for high school. The website design must provide confidence, and create a feeling that the website will help you in your preparations for the exams. On the other hand the website must look fresh and cool for students and give a feeling that learning in this environment is 'cooler' than inside a classroom. Thus, the theme should be 'cool high school'.
Requirements
Although the overview page might differ from the course specific pages, all pages should be recognizable as being under the same corporate umbrella. All course specific pages each have their own color, for example economics has a blue theme, while biology has a green theme, even though they all have the same layout, in a different color. As a general remark, we don't like when people have to scroll too much down the page. Most info must be visible without scrolling.
Page descriptions
See attachment for page details.
Existing website
None - this is a new website.
Example websites
http://simplegeo.com/ (this one is just about the background. Even though this background looks quite mathematic, a similar background (but less mathematic) on the course specific homepage might be nice. Perhaps with line-paper, with school items, like a pencil and/or eraser somewhere, as a background)
http://eindexamen.3fm.nl (even though the background is too busy, we like the ´Eindexamen´ header, and would like to see a similar header with the title ExamenOverzicht. Also, we like the way this website puts the content into blocks with a little bit of space between them)
http://www.justdot.gr/ (the ExamenOverzicht header mentioned above, might be nice in this blackboard style, with the letters just as on this website it says´brilliant ideas come to life´)
Free features
Blind contest

Fast-tracked
We've found some similar contests you might like