Check out jeffandvaden's Web page design contest…
What industry do you think your business is most related to?
Tell us a bit about who you are and the people you reach
We are a social media marketing agency and our website is intended to give visitors to the site information about what we do for brands, the brands we have worked for, the small business jeffandvaden academy. The target audience of our site with be marketing executives, Chief Marketing Officers for large brands who go to our site to check out our credibility. We don't necessarily want to cater to the old school look of websites that might appeal to an older executive...we are a young, fresh and cutting edge brand and our website should get that across.
The website will have the following pages as referenced by the following titles: 1. Home (landing page) - consists of 4 scrolling images (see below) 2. What is jeffandvaden? 3. Trybe's We've Built 4. jeffandvaden Academy 5. Follow the Adventure Site Example #1 http://livedemo00.templatedownload.net/joomla_38756 is where we started our inspiration for the site. We like the following elements of this sample site: Simple, Large eye catching photos, Sleek, Scrolling images upon landing on website We would like to have 4 scrolling images similar to Site Example #1. Each of these scrolling image pages will scroll just like Site Example #1 once someone lands on the page. Each of them will consist of the following: Background Pic Text w/ clickable button that will take them to one of the pages mentioned above Email optin giving people opportunity to join our email list Social media icons for Facebook, Twitter, LinkedIn and YouTube Our "jeffandvaden" supplied logo likely in the top left corner of the page similar to Site Example #1. DESCRIPTION of 4 scrolling image layouts: The following elements should be consistent across all scrolling images in addition to the specifics for each one: The Navigation bar with links to the following pages: What is jeffandvaden?, Trybe's We've Built, jeffandvaden Academy, Follow the Adventure, Blog, Contact Us Clickable button that says "Request Possibility Webinar"...will serve same function as the "Request Demo" button on Site Example #2 http://argylesocial.com/ Social icons for Facebook, Twitter, LinkedIn and YouTube...see Site Example #3 http://jaybaer.com/ for an example of nice looking icons. Email opt in w/ following text: "Get FREE insights & Follow the Adventure" 1st SCROLLING LAYOUT: Background Image: Photo 1 Text: "Building brand advocates around your franchised brand in the hospitality industry while connecting social media to the bottom line" Clickable button below text: "See more" (this button will link to the "What is jeffandvaden?" page) 2nd SCROLLING LAYOUT Background Image: Photo 2 & Photo 3. These photos are of us appearing to be pushing on something. Our thought is to have some graphic designed that would act as a canvas for some text, which we specify below. We will leave it up to the designers to develop this. This graphic that is designed should look like something somewhat real since it will appear we are pushing on it from both ends. Since this was shot in a photo studio we will need a background put behind us. This background should compliment the design and theme of the website. The background doesn't necessarily need to be a picture of anything, it could be a solid color like white as long as it fits with the theme. Text: "Click to see the Trybe's We've Built" - line 1 "Is your brand next?" - line 2. This is just an idea on our part to have it on 2 lines, but if the designer feels something else would look better we are open to looking at options. This entire graphic that is created will be clickable and will take them to the "Trybe's We've Built" page. On the canvas for this text we would like to have 6 client logos in a grid in the background, but faded out so that the text stands out more. 3rd SCROLLING LAYOUT This scrolling layout will be about the jeffandvaden Academy. The purpose is for them to click through to learn more about the Academy. Background Image: Photo 4 Logo: A logo needs to be created for the jeffandvaden Academy. For the design of this logo we would like to maintain the existing jeffandvaden logo that we have attached to the contest as "jeffandvaden logo black" and "jeffandvaden logo white", but we would like the text "Academy" incorporated with it. We likely prefer using the black logo, but provided the white version as well in the event a designer found good use for it. We don't really have any ideas so we are calling upon the designer to come up with something. We aren't even sure if we want the "academy" in all lowercase, "ACADEMY" in all caps, or "Academy" with first letter uppercase. We want to see options. We envision this logo that is created to be placed over the background image (Photo 4), but to be transparent in between the letters so that you can see through, while still standing out and legible to read. One other thing that also needs to be done is a screen shot needs to be added to the iphone screen in Photo 4. The screen on the iphone in Photo 4 is black. So that it appears as though we are actually recording the designer will need to take the overall Photo 4 and place a cropped version that would only show what would actually be recording (minus brick walls on the sides of the white screen). Photo 4 is meant to show a behind the scenes look at us recording content...the iphone screen should show only what a viewer would see if they were watching the recorded content. Text: "Are you a Small Business Owner or Entrepreneur? We've got you covered!" This text should be incorporated on this scrolling layout in some fashion to be determined by the designer. Clickable button: The clickable button should say "learn more". Once they click on this button or link it will take them to the "jeffandvaden Academy" page. 4th SCROLLING LAYOUT This scrolling layout will be about showing which social platforms people can follow us on. Since our brand has an element of adventure to it, we want to spin this in a way that tells them to Follow the Adventure and they do this by connecting with us on Facebook, Twitter, LinkedIn and YouTube. Background image: Photo 5 or Photo 6 Text: "Follow the Adventures of jeffandvaden" We are not sure where this text will go, or what it should really look like. We are calling upon the designer for some concepts here. Some ideas we have on this one is to have the photo of us along with larger floating social media icons of Facebook, Twitter, LinkedIn and YouTube. We have provided 2 photo options for the background photo on this one. Photo 5 is of us putting each other in a head lock, which does not leave opportunity to interact with the icons on the page. Photo 6 is of us as if we are leaning down on something and one of us is pointing. If some type of canvas was created to showcase the social media platforms we are on then this photo could be used. What we like about Photo 6 is that we are interacting with the content on the page. NOTE: THE DESIGN AND LAYOUT FOR THIS WILL MATCH THE PAGE DESIGN FOR "FOLLOW THE ADVENTURE" PAGE. THE FOLLOWING ARE THE DESCRIPTIONS FOR THE REMAINING 4 PAGES LISTED ABOVE. PAGE 2 - What is jeffandvaden? Background image: Photo 1 (Should be same as the 1ST SCROLLING LAYOUT background image) Link to this page on Navigation bar? YES Since the background image will remain we need some type of canvas for the content of this page to sit on. We would like this canvas to be somewhat transparent so that you can slightly see the background image through it. Site Example #4 http://argylesocial.com/what-is-argyle/what-is-argyle is something similar to what we think may look good. This would have a video at the top then some larger headline text below the video that would say "jeffandvaden are passionate about bridging the gap between social media efforts and your brands bottom line" Below that we would like to use the following text: "We build brand advocates for your franchised brand in the hospitality industry while connecting social media efforts to your bottom line. If you are not connecting your social media efforts to specific brand goals then now is the perfect time to start. Let us show you why jeffandvaden has been the choice of many brands to elevate brand awareness, increase loyal customers, drive more sales, develop an effective customer service platform and become the only choice in the marketplace." From this text an idea we had was to have an arrow pointing to a CLICKABLE BUTTON that says "Request a Possibility Webinar today" Below the above description we would like to have a heading that says "Our Services" similar to Site Example #4 http://argylesocial.com/what-is-argyle/what-is-argyle where it says "The Argyle Philosophy". We are also thinking of showcasing our services similar to this example link in a grid type format where we have the Heading text of the service and then a short description underneath as shown on Site Example #4. The following are the headings and short descriptions of each of our services for use in the above direction...we like having the 3 services below in a line left to right on the page: Heading: Community Management Description: We step in and handle everything social so you can continue handling the things your excellent at. By working with you to develop the SOCIAL VOICE of the brand your customers will see consistency between their offline experience with the brand and the digital human relationship that develops online via your social channels. Heading: We'll plan it for you Description: Have the in house staff to handle the community management of all your social media platforms? We'll develop an effective game plan for your social team with a focus on connecting your social media efforts to specific brand goals that influence the bottom line. Heading: Possibility Webinar Description: Not ready to invite us over to meet the family quite yet? Request a Possibility Webinar today and we'll give you our insight on how your brand can take your social effort to new heights. (THERE SHOULD BE A CLICKABLE BUTTON THAT SAYS "Request a Possibility Webinar Today" under the description of the Possibility Webinar Service) On this PAGE 1 we would also like to incorporate a link to watch a video about Jeff and another link to watch a video of Vaden. This area of the page is meant to serve as a bio of each of us. These links would not be a video embedded in the page, but each video would rather open up in a light box when someone clicks on them. Next to the video link of Jeff there should be a picture of Jeff. Use Photo 7 to crop out a headshot of jeff and vaden separately. We do not know the best way or location to put these two links...we are thinking of rather than What is jeffandvaden? The heading above these links could say "Who is Jeff?" and then "Who is Vaden?" Possibly side by side. PAGE 3 - Trybe's We've Built This page serves as a place to showcase who our clients are and provide case studies of each. We like the layout shown on Site Example #5 http://argylesocial.com/customers with a grid of client logos. We would also like some text near the grid of logos that says "Case Studies" to let people know they can click on the logos to read a case study of that particular client. The text to the right of the logos could be similar to the Site Example #5 with a Heading of "Is Your Trybe Next?" with a clickable button below that says "Request a Possibility Webinar Today" Once a person clicks on a client logo they will be taken to the Case Study of that client. We like the layout of Site Example #6 http://argylesocial.com/customers/shoeboxed. We need one of these for each client. The canvas will be similar to the page that shows the grid of logos. Once they go into the case study it should be setup very similar to Site Example #6. The bold text right below the client name (FuzeBox) should read: "FuzeBox uses jeffandvaden to represent the brand on it's social channels and to support it's stand to provide Business Freedom to the online collaboration industry." To the right of this text I would like the attached image "fuze screen shot" and on top of the text next to the client name I would like the fuzebox logo. Below that will be a testimonial...we are awaiting the testimonial from our client at this time so please insert a place holder for now. We do like how the bottom of the case study canvas changes colors slightly. The case study will have the following 3 categories and will be position left to right just like Site Example #6: "Problem", "Solution", "Results" and each of them will have a short paragraph beneath explaining each for that particular client. We ask the designer to just create one of these Case Studies now and once we are happy with the look we will provide the remaining content to build the remaining 4 or 5. See Below for the content for the 1st one to create for the contest. For logo use attached image "FuzeBox Logo white". I could not find a black version of the logo so the white version will have to be made black or a black background will be needed for the white logo, which is how it appears on the www.fuzebox.com website. Problem: FuzeBox was absent in the social media digital space and as a result the brand was experiencing damaging effects that impacted sales and customer loyalty. Their existing and potential customers were attempting to use social channels to communicate with the brand, but they were not reciprocating the effort. The brand was also not establishing themselves as a thought leader/expert in their industry around a concept greater than their product. Solution: Developed the stand of "Business Freedom" for the brand, which was the fuel for creating their SOCIAL VOICE that aligned the brand as a thought leader/expert around the Business Freedom Lifestyle their customers desired. Identified relevant social platforms aligned social media efforts to specific brand goals. Primary use of social channels included: Establish brand as thought leader/expert, acquire sales leads, drive traffic to website, customer support, create brand advocates and promotional campaigns. Results: As a result of community management by jeffandvaden, FuzeBox experienced the following: significant increase in social platform engagement, 45% increase in website traffic, increase sales leads, expedited customer service that led to significant improvement in customer sentiment. The brand continues to see improvements in these areas as their social presence matures. We would also like a "Request a Possibility Webinar Today" clickable button on each case study. PAGE 4 - jeffandvaden Academy Background image: Photo 4 (same background image as SCROLLING LAYOUT 4) Somehow incorporated on the page we would like to see something similar to Site Example #7 http://www.socialfreshacademy.com/sp/7379-front-page-code where instead of 3 tiles we will have 2. The first tile should say "jeffandvaden PRESCHOOL" and the "PRESCHOOL" text should be written in a chalkboard type font or children's writing type font. We are open to ideas for the background of this tile graphic...possibly a classroom type theme? The second tile to the right of the first should utilize the "jeffandvaden Academy" logo that was previously designed from above direction in this description. We don't have an idea for the tile background so we are open to ideas here. Below the preschool tile we would like the following text "The 1st week of Academy content. Foundation to building your Trybe". Below this text we would like a clickable button that says "Name Your Price" Below the jeffandvaden Academy tile we would like the following text "All of the content we work with Big Brands on, built specifically for the Small Business/Entrepreneur". Below this text we would like a clickable button that says "Join the Academy" Under all of the content associated with the preschool and academy tiles we would like heading text that reads "What will I learn in the Academy?" and below the heading I would like the following text in bulleted format: - Connect your social media efforts to direct sales in your business - Stop asking yourself this question "What am I going to post today?" - Effective management of your social media efforts in 15 minutes per day - How to become the only choice in the marketplace for your industry - Provide exceptional customer service in a fraction of the time - Create Brand Advocates that market your business for you around the clock Below this bulleted list we would like to incorporate another clickable button that says "Join the Academy" PAGE 5 - Follow the Adventure NOTE: THIS PAGE IS EXACTLY THE SAME AS THE SCROLLING LAYOUT #4, WHETHER THE PAGE SCROLLS TO THIS PAGE ONCE SOMEONE VISITS THE WEBSITE OR IF THEY CLICK "Follow the Adventure" in the navigation bar. CLOSING: The 4 scrolling layouts are similar, but do have some minor unique elements to them 2. Page 2 "What is jeffandvaden?" is a unique design 3. Page 3 "Trybe's We've Built" is a unique design and has 2 components...the overall show case of all clients and then the focused case study page, but the example sites given should make this design fairly straight forward and easy to match 4. Page 4 "jeffandvaden Academy" is a unique design 5. Page 5 "Follow the Adventure" is the same as SCROLLING LAYOUT #4
While we have given significant direction in our design brief...if something we have stated just doesn't look good we are open to modifications and ideas to get across the feel we desire. We also plan on being very close to this contest and provide feedback as we move through the contest. Thank you in advance for your entries.
Every design category has flexible pricing for all budgets. Web page design starts at $799.
Full copyright with production-ready files for digital and/or print.
It all began with a design brief.
A quick, interactive guide helped them understand their design style and captured exactly what they needed in their web page design.
Designers across the globe delivered design magic.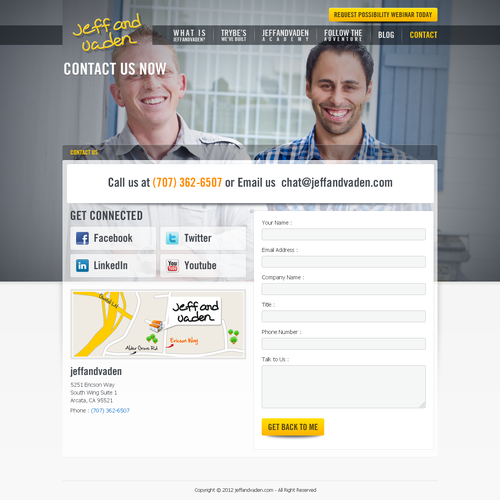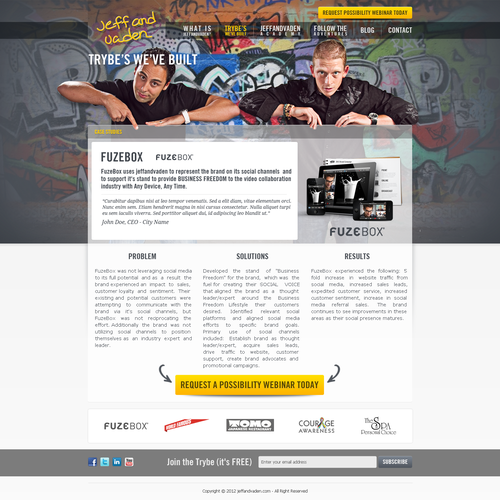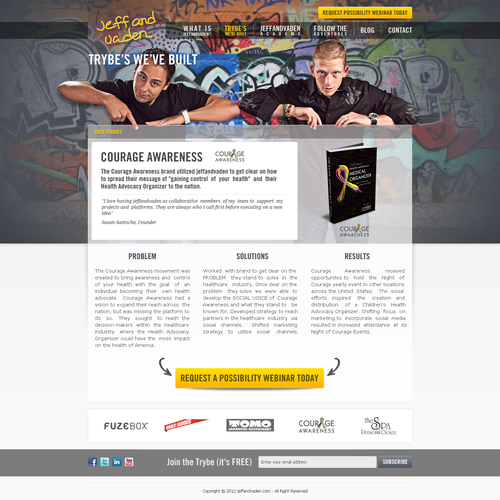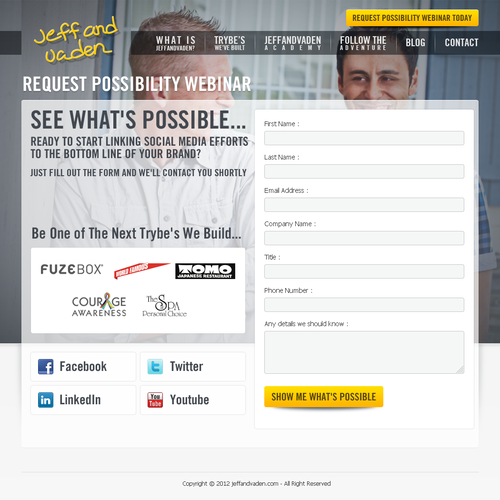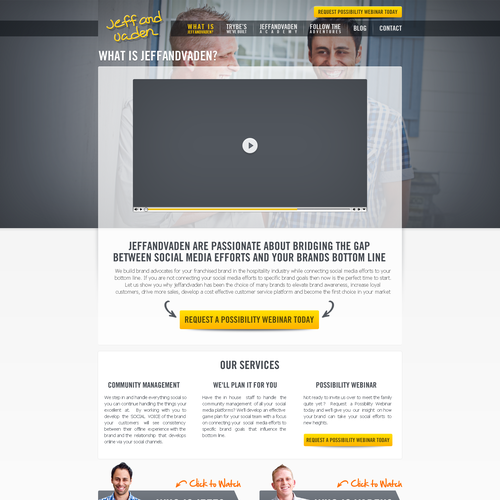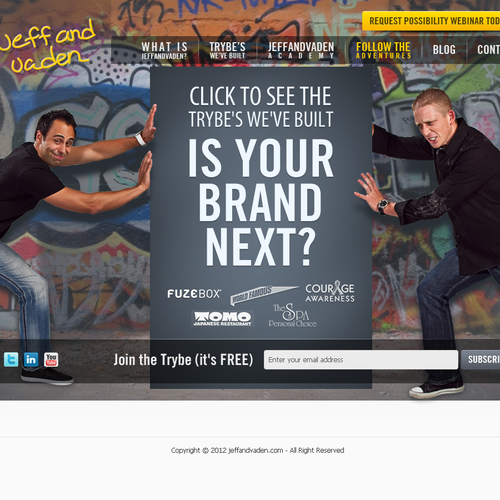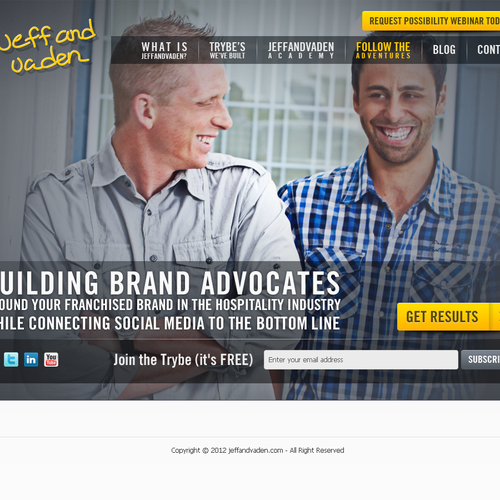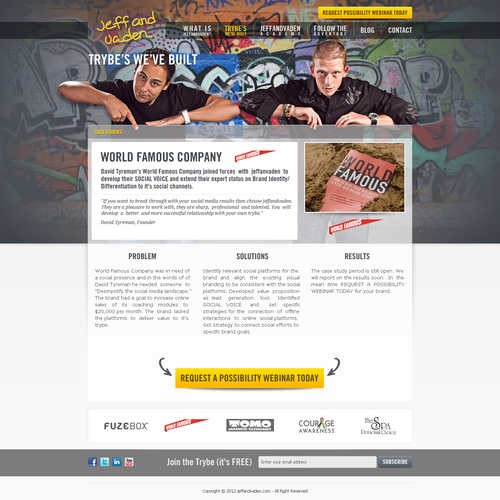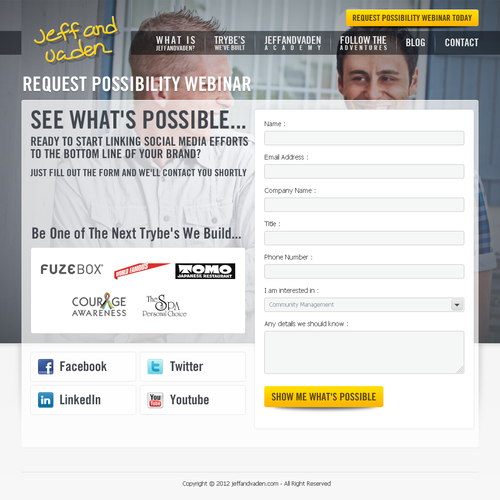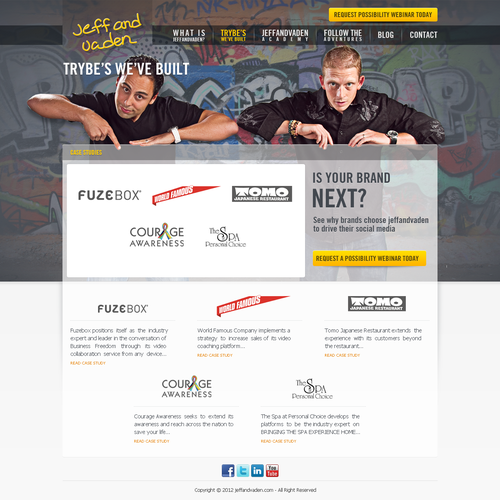 You'll get loads of concepts from experienced designers around the globe.
Work with talented, professional Web page design designers to turn your ideas into reality.
Select your favorite custom Web page design (Or two! Or three!). And the design is all yours.
jeffandvaden collaborated with designers to refine their ideas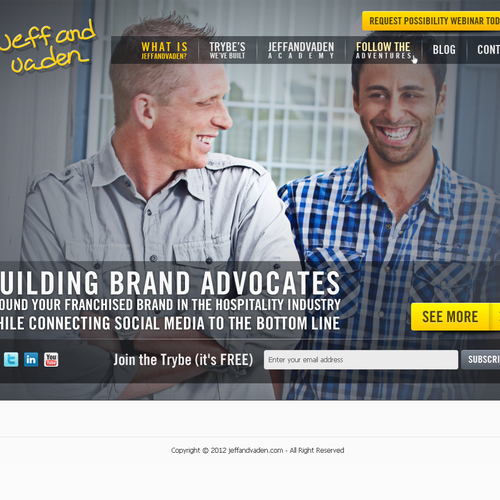 Rate designs
When design entries come in, you can rate them so designers know what you're looking for in your logo design.
Give feedback
99designs has great collaboration tools so you can pinpoint and capture your ideas
Along the way, they met lots of talented designers…
We think contests are a super fun way to get design.
Recently completed contests: