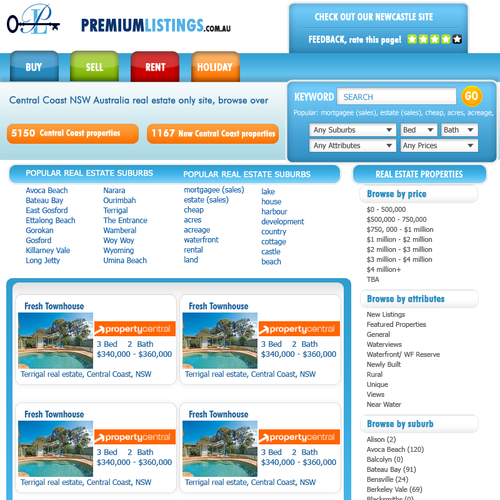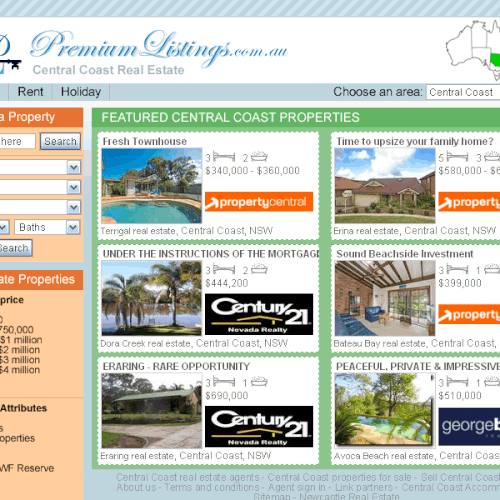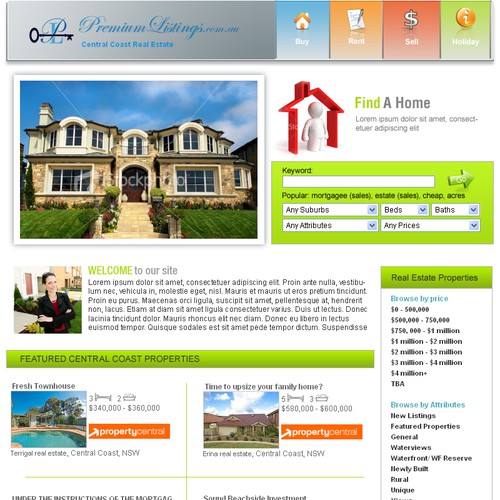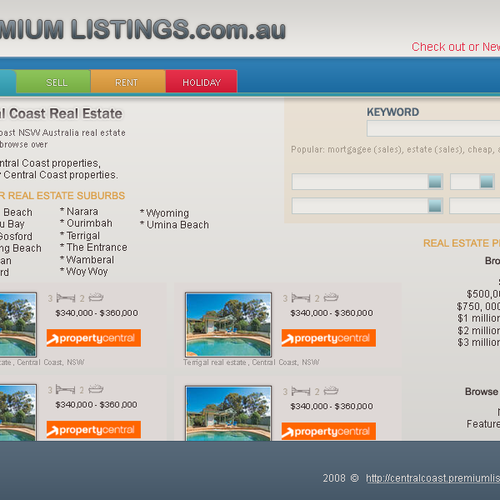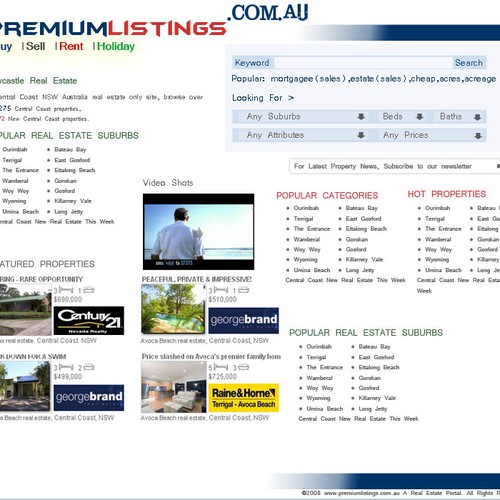 How John-pl started their web page design journey
Summary
** PRIZE WILL DEFIANTLY BE GIVEN TO A WINNER **
http://www.PremiumListings.com.au
Redesign is of the homepage which lists 'real estate for sale', design only, no coding.
Simple and clean, 800width, clear top menu (Buy, Sell, Rent, Holiday) that stands out
Start with a rough design if you want and we can say if its promising enough to be expanded on.
*NEW: Keep in mind
- We would like the design to be easier enough for us to integrate into subpages.
- Light, clean and simple is what we like
- Try and keep as much of our content as possible
- Top menu may be added to later
- Width can be greater than 800width but allow for ads
- Altering the title image "PremiumListings.com.au" is ok but only alter the logo only if you really feel the need to
Company name
What inspires you and how do you envision the design for your business?
Who: The site you will be taken to is a Central Coast real estate site, though we will be using this same design for all regions of Australia. This is our main site and we are only just starting to launch similar sites for all regions of Australia.
What: The redesign is of the homepage which lists 'real estate for sale'. The top menu also links to 'rental' and 'holiday' sections which will be very similar to the home page just instead of a blue site they will have a different color scheme, eg, "Buy"=Blue, "Rent"=Red, "Holiday"=Green etc
Start with a rough design if you want and we can say if its promising enough to be expanded on.
Why: We are always looking for new ways to get things done and this option seemed interesting. It results are good we have plenty more work planned down the track.
Wants
- (Must) Simple and clean.
- (Must) 800width
- (Suggestion) different color for each of the top menu items (Buy, Sell, Rent, Holiday)
- (Must) Able to work with different regions, eg not all in a central coast feel
Don't want
- focused on the central coast, or coastal real estate in general
Free features
Open contest

Fast-tracked
We've found some similar contests you might like